MovieTech Movie Track - Steeltracks
The steel track is made of high-grade steel with special surface coating. The design and manufacturing of the track tube is focused on a precise manufactoring to assure smooth track-to-track transitions.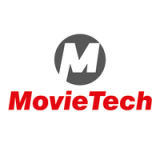 Gauge 62 cm
Item.No. 2600-0
Movie Tr. CrX, 90cm/3ft, fixed/foldable
Item.No. 2601-0
Movie Tr. CrX, 160cm/5ft, fixed/foldable
Item.No. 2602-0
Movie Tr. CrX, 230cm/7,5ft, fixed/foldable
Item.No. 2640-0
Movie Track CrX, curve 45°
precise circularity and constancy of the track tube plus fine polishing finish enables very smooth and silent movements of the dolly
well thought out composition of the different materials enables the using of heavy cranes
tread inserts can be changed easily in case of a damaging
design of the sleepers, with the round cut-outs is acoustically optimized
The tube ends are protected by shifted connection pieces. This makes the daily application easier and protects the tube ends against damage
Compatible with most other track systems
Please complete the form below and we'll get back to you as soon as possible.