MovieTech Master Jib
Based on its especially short main segment, the MasterJib can be assembled in various length versions – from a very short Remote Head version R1 with 770mm arm length up to version R6 with 3630mm arm length. Due to the quick-release system, the MasterJib can be assembled in a few minutes and needs no additional bracing. This keeps the size ratio of the MasterJib small and the action radius large.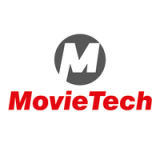 crane support with integrated base segment, horizontal and double vertical brake, adapter for monitor support, pan angle display, water level
end segment 500mm (alternatively 1000mm)
counter weight support incl. steel counter weight rods (Ø 30mm)
arm segments 500/1000 mm with quick release system (number depends on version)
panning handle flexible to mount
crane head with mitchell base plate and handles on the side, horizontal angle adjustable
Please complete the form below and we'll get back to you as soon as possible.