MovieTech MovieJib
Der MovieJib – consistently lightweight and incredibly flexible. Using the MovieJib you may achieve "floating" shots while panning very precisely.
The jib may be mounted via a M12 srew thread. An adjustable euro mount enables to mount ball adapters or a lightweight remote head.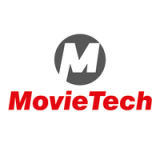 8 steps telescopic system (distance 65mm)
Crank lever for weight counterbalance
Two brakes (horizontal/vertical)
Tripod Bullstand 120
Counterweight rod / length 725 mm / diameter 30 mm
Handle with safety function
Softbag
Weight
Gewicht
255.73lb
41 kg
Dimensions when packed
Packmaße
69.69 x 14.57 x 11.42 in
212 x 38 x 27 cm
Max. payload
Max. Zuladung
(Krankopf ganz ausgefahren)
66.14 lb
30kg
Max. payload
Max. Zuladung
(Krankopf ganz eingefahren)
88.18 lb
40 kg
Counterweight
Gegengewicht
approx. 158.73 lb
ca. 72 kg
Please complete the form below and we'll get back to you as soon as possible.