MovieTech Remote 400-R4
With only two different bracing and parallelogram bars as well as corresponding crane-arm segments with a length of 1 m and 1.5 m, the MT crane system is the compelling choice due to its extremely short set-up times. Thanks to its intelligent connection system, the "push pins" which were forever being lost at the filming location are now a thing of the past.
The MT 400 is entitled to bear the BG-PRÜFZERT badge.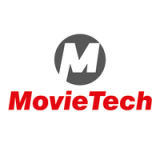 Rear boom
1 m
1, 5m
Required boom, front
4 x 1,5 m
4 x 1,5 m
Strut bars / parallelogram bars
Front
10 x 1,5 m
10 x 1,5 m
Rear
3 x 1 m
3 x 1,5 m
Total travel
11,08 m
11,08 m
Maximum height
Without column extension
7,5 m
6,18 m
With column extension
7,83 m
7,54 m
Counterweight without payload
160 kg
104 kg
Payload
80 kg
80 kg
Counterweight with payload
544 kg
400 kg
Boom length
Front (reception flange)
7,57 m
7,57 m
Rear (outer edge of basket)
1,97 m
2,45 m
Own weight without payload and counterweights
307 kg
333,5 kg
Please complete the form below and we'll get back to you as soon as possible.