MovieTech Remote Head P10 - powerful and silent - perfect for filming in studios
A lot of power and silent operation make the digital remote head "P 10" the perfect equipment for filming in studios. Available in a two axis version. For cameras up to 25 kg.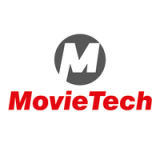 Item.No. 8472-0
high speed and a silent drive
backlash free drive axles thanks to special gears
easy handling and operating
drive axles may be variably positioned in the frame to achieve a high degree of stiffness (size of the remote head may be perfectly adjusted to the size of the camera)
easy and quick to mount on a large range of cranes or jib arms thanks to the Mitchell mount system or an additional euro mount adapter
allows to control zoom and focus of broadcast optics with integrated motor units
prepared for joystick control or optional single man control
frame with 2 (Pan, Tilt) or 3 (Pan, Tilt, Roll) modular axis
camera plate incl. mounting plate
main control cable 20 m
battery holder for 2 V-Mount 24V (without batteries)
accessories
Please complete the form below and we'll get back to you as soon as possible.